DENTAL CLINIC WITH NEARLY 30 YEARS OF EXPERIENCE
SPECIALISTS TAKING CARE OF YOUR DENTAL HEALTH
We welcome you to our dental clinic, located in Coruxo – Vigo since 1994. Our main goal is to guarantee an optimal dental health thanks to the innovations of the innovations of the industry. We have the best team of specialised dentists of different areas that will receive you and will advise you in an honest, empathic way, always putting your well-being first. Not only that, but we adapt to you and your budget, we evaluate our patients on a case-by-case basis and help you find the solution best suited to you in any particular field.
100% OF OUR PATIENTS RECEIVE
Always adapted to their needs.
OUR TREATMENTS ARE NOT OFFERED IN OTHER CLINICS
We have a complete team of professionals that allow us to encompass all dentistry specialties to avoid deriving you to a different centre, thus saving your time.
ADVANCED DENTAL SURGERY, PERIODONTICS, IMPLANT DENTISTRY, ENDODONTICS, ORTHODONTICS AND DENTAL HYGIENE.
We also offer laser odontology and microscopic odontology, complete with anaesthesia service for an IV conscious sedation, large regenerations and a care unit for special patients.
YOU ARE KNOWN BY NAME AND SURNAME, YOU ARE NOT JUST A NUMBER.
We want you to feel at home during your visit and make it as amenable and nice as possible, whether you come alone or with children. That's why in Clínica Dental Romero you will find:
FREE parking
Continuous working day (09.30 AM to 9.00 PM)
Parking with adapted access for people with reduced mobility
Waiting room with INTERNET access.
Entertainment for the little ones with gaming systems and books
Easy payment terms. Personal payment plan service.
Get your appointment now and join the Clínica Dental Romeo family!
WE ARE PARTNERS IN THE CAMPAIGNS FOR EARLY DETECTION OF ORAL CANCER AND "SALUD ENCÍAS" ("GUM HEALTH") CAMPAIGN WITH THE SCIENTIFIC ENDORSEMENT OF SEPA - SPANISH SOCIETY OF PERIODONTOLOGY
Our goal is to raise awareness on the relevance of a good oral health, as many people don't put as much importance on it as it actually has and how much it influences our bodies.
AT CLÍNICA DENTAL ROMEO WE GIVE YOU
We are aware that each person has different economic circumstances, but in Clínica Dental Romeo we don't want you to put your health aside. With our personal payment plan service, you won't have to worry or postpone that dentist appointment.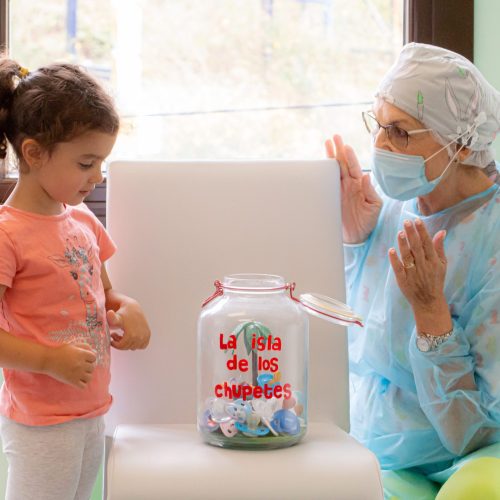 WHAT OUR PATIENTS SAY ABOUT US!
We have a complete team of professionals that allow us to encompass all the specialties to avoid deriving you to a different centre, thus saving your time.
Juan Pérez
⭐⭐⭐⭐⭐
Very pleased with the treatment and care. Highly recommended and I will do it if the opportunity arises. Thank you very much!
Manuel Gil
⭐⭐⭐⭐⭐
Dental clinic that is known for its excellent customer service, its highly qualified staff, wonderful facilities and services at very reasonable prices. They are highly recommended.
Alejandro Gómez Álvarez
⭐⭐⭐⭐⭐
If you have panic/fear/respect of the dentist, I strongly recommend this clinic. From the first minute, a close and unbeatable treatment, a team of professionals that generate a unique confidence and above all what matters to all of us, a reasonable and affordable price. 100% recommended.
Gabi Haller
⭐⭐⭐⭐⭐
They have very good professionals, both at the front desk as well as the dentists. Very reliable and very good service.
José Carlos Pérez Baena
⭐⭐⭐⭐⭐
I have been attending this clinic for a long time, both for myself and my family, and I only have words of praise for it. They are always up to date with the latest equipment and they have the very latest in dentistry. I know that they use materials of 1st international brands, both for basic treatments such as fillings and implants. The price is reasonable and even lower than other clinics that use the same materials. With regard to the service, very human and friendly, both from the assistants and the specialists. Highly recommended.
Sylvia González Dominguez
⭐⭐⭐⭐⭐
Impeccable service, the facilities are wonderful, and although I hate going to the dentist, it is a pleasure to be treated at the clinic.
Nicolás Jacob
⭐⭐⭐⭐⭐
Excellent professionals! I am receiving a very personalised service for my periodontal treatment, which is progressing very favourably. They are fantastic, thank you very much Pablo and Lucía.
Jose jr
⭐⭐⭐⭐⭐
Very professional, attentive and helpful. The cleanliness and image of the clinic is amazing.
TIRMA CENICEROS SANTO DOMINGO
⭐⭐⭐⭐⭐
I am delighted with my little one's dentist. And the staff is lovely.
Natalia Rial Maciel
⭐⭐⭐⭐⭐
I have been treated by an orthodontist and my dentist (María and Evelin). I am very pleased, just delighted. They are both sweet and charming. Although I hate going to the dentist.😜😜
Manuel Coe
⭐⭐⭐⭐⭐
Desde sus inicios hemos pasado toda la familia. Encantados con su servicio y atención.
ANA IGLESIAS TOME
⭐⭐⭐⭐⭐
Nunca pensé que saldría del dentista tan contenta y feliz. Que la clínica dental Romeo me hubiera ofrecido la sedación consciente para colocar implantes, empastar y endodoncia fue mi salvación al pánico que sentía al dentista. Tras la conversación con el anestesista, fue tal la tranquilidad que sentí que decidí contratar la sedación consciente. La mejor decisión que pude haber tomado, puesto que en la misma mañana todo listo y lo mejor...sin enterarme de nada, de hecho me dormí y no fui consciente del tiempo que pasé sedada. La recuperación fue tranquila y sin prisas, siempre acompañada de anestesia y el personal de a clínica. Seguí todas las instrucciones que me dieron y todo salió mejor de lo que esperaba. Estoy súper contenta y feliz. Gracias a todas las personas que hicieron posible que no pasara ningún tipo de dolor y que todo saliera perfecto.
Savman Mc
⭐⭐⭐⭐⭐
Trato 10. La clínica es muy moderna y limpia, cómoda. El Dr. Ameijeira y la higienista Lucía fueron equipo increíble. Un absoluto 10 en cuanto a puntualidad, tratamiento y amabilidad. Recomiendo esta clínica sin dudar.
Debora Leiro
⭐⭐⭐⭐⭐
Atención excelente por parte de las recepcionistas. Mi dentista, Manuel siempre ha sido muy atento y muy cuidadoso con todos los tratamientos de mis dientes. Puede ser un poco caro pero yo tengo muchísima confianza en él y en todos los tratamientos que hice hasta el momento. Hace poco me hicieron un implante y no pude salir más contenta a pesar de haber pagado un pastón jaja. N se nota que es un diente postizo en absoluto.
Miguel V
⭐⭐⭐⭐⭐
Llevo yendo desde pequeño y todos los especialistas que me han atendido lo han hecho a la perfección.
Ana Belén Pintor
⭐⭐⭐⭐⭐
Mis hijos y yo estamos muy satisfechos. Una atención increíble. Un equipo fabuloso.
M Pilar López V
⭐⭐⭐⭐⭐
Mi experiencia en Clínica Romeo , ha sido perfecta, la atención y su profesionalidad, me asesoraron e informaron de las posibilidades que podría optar para mis prótesis. Volveré todas las veces que sea necesario, y tengo pánico a los dentistas y allí estuve siempre relajada y muy bien tratada.
Erea nm
⭐⭐⭐⭐⭐
Calidad-Precio muy buena. Atención Excelente! En todos los sentidos de 10!
Amelia Rodríguez Rojo
⭐⭐⭐⭐⭐
Súper profesionales, mi padre está en buenísimas manos con el doctor Francisco. Siempre va tranquilo y ha perdido el miedo. Súper recomendable. La clínica es preciosa y muy moderna.
Project funded by the European Union-Next GenerationEU